Gym Flooring Supply & Installation Company in Dubai, Sharjah, Abu Dhabi
Buy The Best & Durable
Gym Flooring Dubai
When it comes to setting up a gym in Dubai, one of the most important considerations is the choice of flooring. The right flooring not only sets the tone of your gym but also influences the comfort and safety of your users. So, let's delve into the world of gym flooring and explore the best options available in Dubai.
We offer your wide range of exquisite options for gym mats in terms of design, patterns, sizes and colours. Our interlocking gym mats range allows easy installation and fixing without additional assistance. Call us for your gym maintenance in Dubai.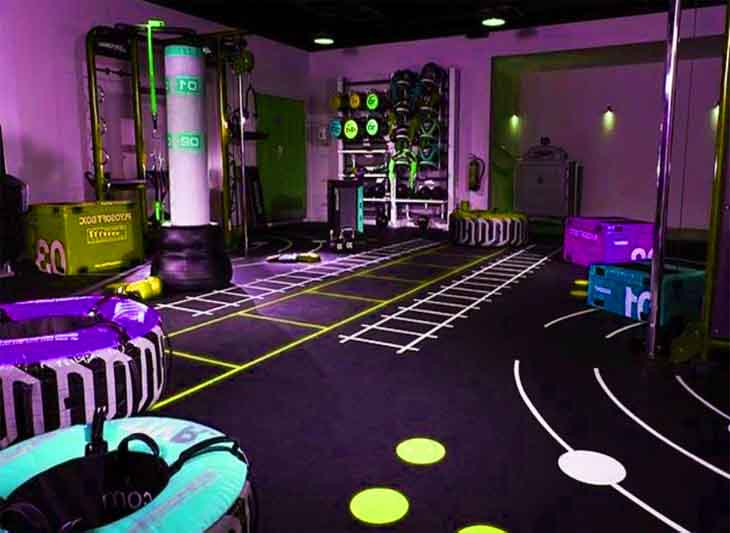 Best Gym Flooring Suppliers in Dubai
Dubai boasts a wealth of expert gym flooring suppliers. These professionals offer a wide range of gym flooring options, from foam to rubber, carpet to tile, all designed to withstand the rigors of daily exercise. They provide quality flooring solutions that meet both health and environmentalism standards, ensuring that your gym is not just a haven for physical fitness, but also a promoter of sustainable living
Outdoor Gym Flooring In Dubai
Dubai's beautiful weather and vibrant outdoor culture make outdoor gyms a popular choice. Outdoor gym flooring, therefore, needs to be durable, water-resistant, and able to withstand the harsh Middle Eastern sun. Flooring suppliers in Dubai offer a range of outdoor gym flooring options, including natural rubber, polyvinyl chloride (PVC), and even poaceae – a type of durable grass.
When choosing flooring for your gym, consider the type of exercises that will be performed, the level of noise reduction needed, and the amount of space available. Rubber gym flooring is a popular choice, due to its durability, shock-absorbing properties, and resistance to slips and falls. Alternatively, foam or carpet tiles offer a softer surface for yoga or Pilates studios. These options can be expertly installed by suppliers in Dubai, Fujairah, and across the United Arab Emirates (UAE).
our gym flooring is best among others!
Hire us!!
We offer a range of gym flooring in Dubai, Abu Dhabi, and UAE including rubber gym mats, polyester mats, and polyurethane mats.
Rubber is the gold standard for gym flooring, offering excellent shock absorption, noise reduction, and slip resistance. It is also resistant to most chemical substances, making it a hygienic choice for a high-traffic gym environment. Moreover, rubber gym flooring is available in a range of thicknesses, typically measured in inches, to cater to different types of exercise.
BENEFITS OF RUBBER GYM FLOORING
Protection For The Flooring
Rubber gym flooring protects the underlying floor from damage caused by dropped weights and heavy gym equipment. It also provides a level of cushioning that can help to reduce injuries and lessen the pain caused by high-impact exercises. This makes rubber flooring a smart investment for any gym owner.
The benefits of rubber flooring extend to the users too. The elasticity of rubber flooring can help to reduce the risk of skeletal muscle injuries, providing a safer environment for exercise. Additionally, due to its water and chemical resistance, rubber flooring is easy to clean and maintain, promoting good hygiene within the gym.
Environmentalism and Gym Flooring
Choosing environmentally friendly gym flooring rubber is a responsible decision that can have a positive impact on your gym's brand. Many gym flooring options available in Dubai, such as natural rubber or recycled PVC, align with the principles of environmentalism. Moreover, many suppliers in the UAE, including those in Abu Dhabi and Sharjah, are committed to the recycling of old gym flooring, contributing to a sustainable fitness industry.
Waterproofing and Gym Flooring
Whether it's sweat from a tough workout, a spilled water bottle, or the need for regular cleaning, gym floors can be exposed to a lot of water. Therefore, choosing waterproof gym flooring is essential. Both rubber and PVC gym flooring options provide excellent water resistance.
A busy gym can be a noisy place. Heavy weights dropping, machines humming, music pumping – it all adds up. A good gym flooring option can help to reduce this noise, making the environment more pleasant for everyone. Rubber flooring is particularly effective at noise reduction, thanks to its high-density and elasticity.
Health Clubs and Gym Spaces in Dubai
Health clubs in Dubai, from small boutique gyms to large chains, require quality gym flooring. A well-chosen floor can transform a room, providing a clean, professional, and safe space for members to work out. Many gyms opt for different types of flooring for different areas – for example, rubber for the weight room, carpet tiles for the yoga studio, and specialized waterproof flooring for the swimming pool area.
Gym Flooring: From Dubai to Fujairah and Beyond
Whether you're in Dubai, Abu Dhabi, Fujairah, Sharjah, or anywhere in the Middle East, you can find top-quality gym flooring options to suit your needs. Suppliers across the UAE offer a variety of products, with options to suit any type of gym – from outdoor playgrounds to high-end health clubs.
The need for quality gym flooring isn't limited to the UAE. Neighboring Oman also boasts a thriving fitness industry, with gym owners demanding the best when it comes to gym flooring. Whether it's the durability of rubber or the comfort of foam, the choice of flooring can make a significant difference to the success of a gym.
Frequently Asked Questions?